Resources for Your Journey of Discipleship
The 2000+ year tradition of the Catholic Church is so wide and rich that there is something for everyone, no matter what your background, learning style, interest, or schedule. Whether you have been away from the Catholic Church, want to become Catholic, or desire to grow in a deeper knowledge and appreciation of the Catholic faith, we can provide you tools, resources, and support that fit your needs and your schedule. We invite you to discover that Catholic faith that is more than just a theory, or set of teachings.
As you continue to grow in intimacy and friendship with God, know that we are praying for you. If you have questions, concerns, or find that the resources here aren't exactly what you need, please don't hesitate to contact us.
Burning Hearts Resource Guides & Audio Talks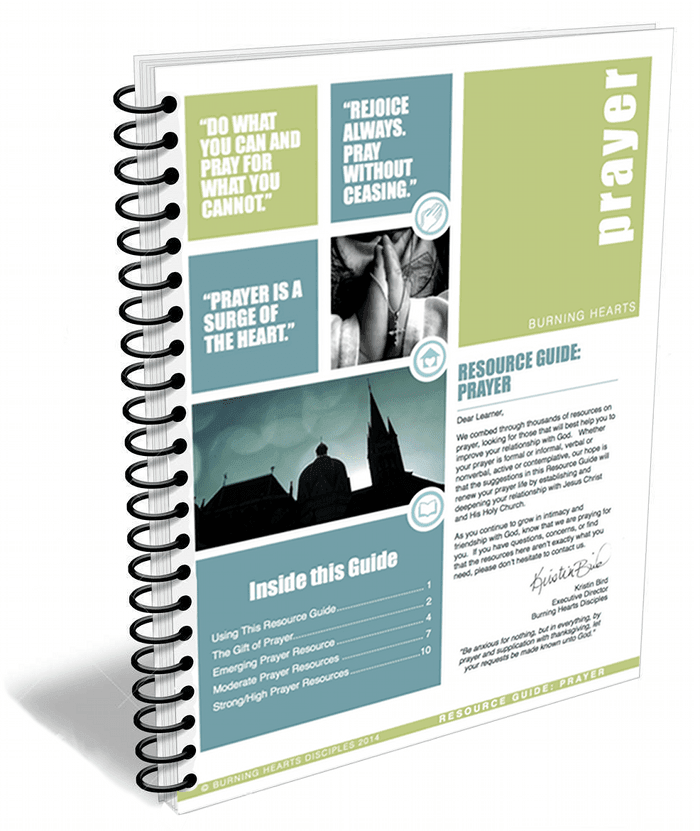 We know that there are a plethora of resources out there to help those who want to grow in their faith – but that so many Catholics get overwhelmed at the thought of having to sift through the thousands of books listed on Amazon or the Catholic blogs and news sources that are out there. We have combed through the thousands upon thousands of available books, videos, CDs, websites, podcasts, DVDs, and apps to create these Resource Guides.
Each Resource Guide is broken down by resource level (Emerging, Moderate, Strong/High, and Family) and by resource type (Print, Audio, Video, Web). The cost of the resources found in these guides varies, but many are free!
get a customized Resource Guide sample - absolutely free!
Take our Burning Hearts Prayer Survey and one of our Disciples will help you idenitfy the resources best for your level and learning style.. After taking the survey, we'll send you this sample page from Resource Guide that fits your needs at no charge!