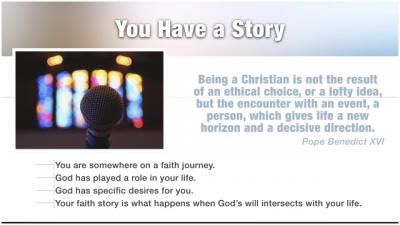 "Every Christian is challenged, here and now, to be actively engaged in evangelization; indeed, anyone who has truly experienced God's saving love does not need much time or lengthy training to go out and proclaim that love."
Pope Francis (Evangelii Gaudium)
"Modern man listens more willingly to witnesses than to teachers, and if he does listen to teachers, it is because they are witnesses."
Pope Paul VI (Evangelii Nuntiandi)
"The witness of Christians, whose lives are filled with the hope of Christ, opens the hearts and minds of those around them to Christ."
USCCB, Disciples Called to Witness
The most valuable way to share our faith is by telling our own story, our testimony of the difference Jesus Christ has made in our lives, in a firsthand account. This session helps participants identify the key elements of their personal journeys to discipleship.
The resources below expand on the role of story in evangelizing and can provide additional reflections, practical tips, and suggestions on how to think about both incorporating story and sharing your own story.
If you are interested in a Formation and Reflection Event on the role of listening and story in evangelization and the art of accompaniment, contact us today.