Forming Missionary Disciples
"Discipleship" is often a buzzword in the church - used in numerous contexts and for varying purposes. For our purposes, discipleship is an active response to a relationship with Christ. Discipleship is active. It happens on purpose. Author of the book Forming Intentional Disciples, Sherry Weddell, said, "You don't do [discipleship] accidentally; you don't do it in your sleep."
Relationship is at the heart of discipleship
This means that it is not a pyramid or mountain of perfection to climb. It is a journey of growing - of knowing, loving, and serving Jesus, His Church, and one another more and more deeply.
The USCCB has outlined a four step methodology for helping people to grow on their discipleship journey. This Encounter, Accompaniment, Community, Mission methodology is outlined in the USCCB document Living as Missionary Disciples: A Resource for Evangelization. While not exhaustive, this resource includes some good reflections on each of the four areas of evangelization methodology.
We have provided some of our own reflections on what each of these moments on the discipleship journey might look like - both in your personal life and your parish. You can access these reflections by click on the (+) next to each movement.
Discipleship, conversion, and a relationship with Christ doesn't end with obedience, intellectual assent, or emotional response. Mature discipleship — like mature friendship, love and marriage — is a complex, organic entity, always growing. We want to help you on your journey of discipleship - whether you are trying to grow personally or as a faith community. We'll meet you where you are on your faith journey, help you plan for the next leg, and walk with you down the road.

---
Read more...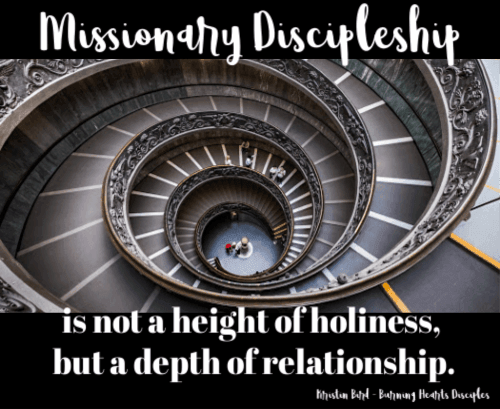 Radical Missionary Discipleship: "I Want That!"