Living the Faith: Accompaniment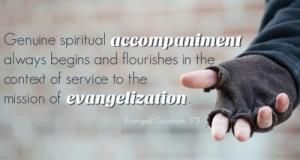 "The Church will have to initiate everyone—priests, religious and laity—into this 'art of accompaniment' which teaches us to remove our sandals before the sacred ground of the other" (cf. Ex 3:5).
The Good News of Accompaniment
The parish must provide experienced missionary disciples who can accompany those who are returning to the Church and guide them throughout their journey. In accompanying others, the disciple possesses a love for others and the Church by being welcoming and hospitable. The disciple must be willing to walk with others, share the Good News, and help others grow in their faith and live in solidarity with others.
One seeking to learn how to be a disciple of Christ does so through apprenticeship. Those seeking to return to the faith are seeking to live a life of discipleship, to follow in the footsteps of Christ. Apprenticeship "links an experienced Christian believer, or mentor, with one who seeks a deeper relationship with Christ and the Church." This kind of accompaniment is an essential element in witnessing to the Gospel message.
Accompaniment may include:
Reconciliation which offers the experience of God's grace and mercy.


Catechesis - formation on the Creed, the seven sacraments, the moral and social teachings of the Church, prayer based on the kerygma, and missionary discipleship.


Prayer with and for one another - including opportunties to help others recognize the way God is answering their prayers and moving in their life.

Hospitality prepares both a place and a way for people to belong, to receive the Sacraments, and for the Word of God to dwell richly.


and much more...
Read more about the Art of Accompaniment here.
---
Questions for Personal Reflection:
In what ways am I accompanied on my journey of faith? Who accompanies me and my family?


How do I accompany others on their journey of faith?
Questions for Pastoral / Parish Leader Reflection:
Do we plan parish activities keeping the art of accompaniment in mind?


What opportunities for accompaniment are offered in support of the faith of parishioners?

What areas can be improved?
---
This article is adapted from an excerpt from Living as Missionary Disciples: A Resource for Evangelization (Washington, DC: USCCB, 2017) 31. Publication no. 7-558. Copyright © 2017, United States Conference of Catholic Bishops, Washington DC. All rights reserved. Used with permission.