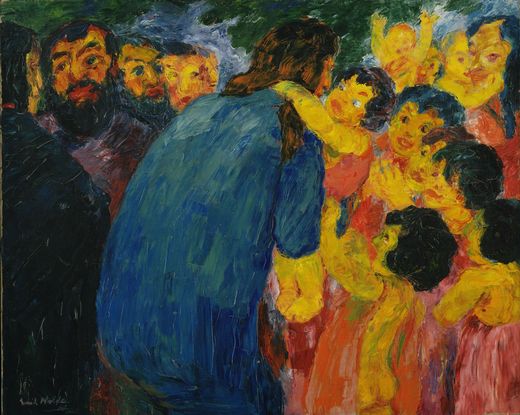 "Christ and the Children" Emil Nolde There are many different ways to express and proclaim the kerygma - the core apostolic proclamation of the Good News of Jesus Christ. You can find it throughout the New Testament, the documents of the Church, and the writings of the early Church Fathers.
Ultimately, however you express it, the kerygma is about the person of Jesus Christ and someone making a choice to give their lives to Him - to become his disciple.
Children are not exempt from the need to hear the Good News of Jesus in a compelling way. Even at a relatively young age, children have the capacity to
experience the nearness of God,
understand the life, death, and resurrection of Jesus in a deep and personal way,
respond to Jesus' invitation into deeper friendship with the Him, and even
share the Good News with others.
Jesus said, "Let the children come to me, and do not prevent them; for the kingdom of heaven belongs to such as these." (Matthew 19:14)
Kerygma Resources for Children & Youth
We need to not only focus on the evangelization of adults and parents, but need to parallel our efforts by evangelization children. Unfortunately, traditional catechetical materials fall short in helping children encounter the living Christ and in proclaiming the kerygma.
There are a number of resources and tools that we can recommend to help you proclaim the kerygma to children, youth, and teens of all ages. Ultimately, however, the most powerful proclamation of the kerygma - whether it is for an adult, a teen, or a child - is the one that comes from out of your personal encounter with the life-changing power of the person of Jesus. The most effective proclamation tool you have at your fingertips is your answer to this question:
What difference has Jesus made in your life?
Internalizing and living this core apostolic proclamation in your own life must come before any of the resources below can be used with any expectation of fruitfulness.
When we see the movements of the kergyma in our own life stories, we can be nimble enough to share this proclamation in the manner, method, and expression most appropriate to the needs and journey of the person or people in front of us.
(See also: Kerygma Resources for Adults)