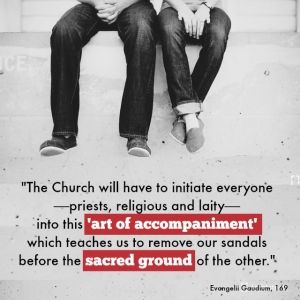 In the Joy of the Gospel, Pope Francis talks about the essential role of listening in evangelization and discipleship:
"We need to practice the art of listening, which is more than simply hearing. Listening...is an openness of heart which makes possible that closeness without which genuine spiritual cannot occur. Listening helps us to find the right gesture and word which shows that we are more than simply bystanders. Only through such respectful and compassionate listening can we enter on the paths of true growth and awaken a yearning for the Christian ideal: the desire to respond fully to God's love and to bring to fruition what he has sown in our lives."
The resources below expand on the role of listening and can provide additional reflections, practical tips, and suggestions on how to begin listening with the openness of heart which makes true conversion possible.
If you are interested in a Formation and Reflection Event on the role of listening and story in evangelization and the art of accompaniment, contact us today.
---
by Tony Vasinda
In a time when certain conversations can seem tense or even taboo, this podcast pushes back against a culture of silence. Every other week the host sits down with a different guest to talk about what they believe, what shaped it, and why it matters. The Threshold Podcast features a mix of conversations with atheists, agnostics, Catholics, other Christians, and people of completely different faith backgrounds. The focus of the conversations is not to challenge, convert, or shame anyone's perspective. Instead, they provide a space where people can share their stories, talk about their experiences, and create bridges of trust.
This podcast can be a great tool to practice listening - especially with populations that either you don't usually encounter or may have a particular fear/frustration with.
---
by Sherry Weddell
We must make conscious choice to know and follow Jesus before we can draw others to him. This work of discipleship lies at the heart of Forming Intentional Disciples, a book designed to help Church leaders, parish staff and all Catholics transform parish life from within.
Chapter 5 ("Thresholds of Conversion: Can I Trust You?") specifically focuses on an explicit type of Listening as a Disciple that the author refers to as "Threshold Conversations."
Tags: Accompaniment