Most Blessed Sacrament Holy Spirit Retreat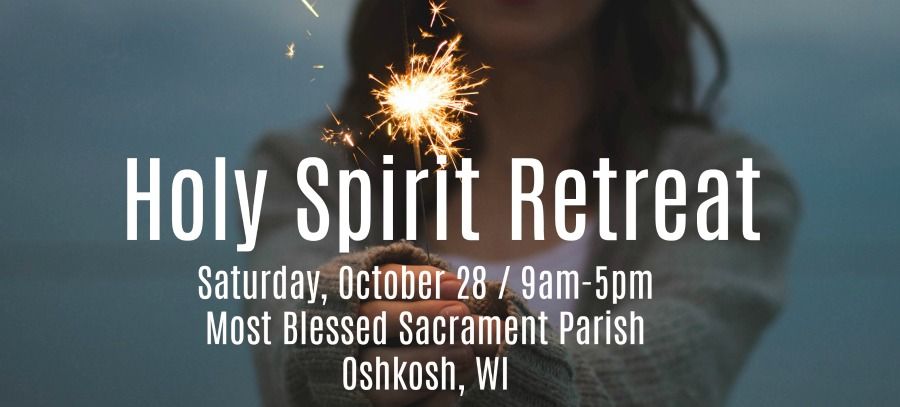 Renew yourself in the Holy Spirit
Who is the Holy Spirit? What does the Holy Spirit do? How can I be filled with the Holy Spirit?
Join Deacon Keith Strohm from the Archdiocese of Chicago and M3 Ministries and Kristin Bird of Burning Hearts Disciples as we explore these questions in a spirit-filled retreat. This retreat will explore the meaning and significance of the Holy Spirit in our lives. It's an introduction to the presence, peace and power of God that can be experienced daily.
October 28, 2017
9am - 5pm
This retreat day will be focused on the role and actions of the Holy Spirit in our lives. All are welcome to join us for this time to relax, get to know each other, have fun, and grow in faith together without being rushed.
Music provided by Brian Mitchell from the Archdiocese of Milwaukee. Retreat willl end with 4pm Mass.
Testimonials from past retreat participants:
"This retreat helped me grow in my relationship with God. I loved it. I could have listened much longer. I wish we had more time. I never prayed to the Holy Spirit before - I don't know why. Now I'm trying to address him as well as Jesus and God the Father."
"My encounter with the Holy Spirit was subtle - it happened during the retreat. I experienced an overwhelming peace within me that resonated through my body. I know this is the Holy Spirit's inspiration. I couldn't stop smiling because I couldn't contain the joy inside me."
"After 60 years, I finally get it: God really does love me, doesn't he?"
"I felt deeply as if the Holy Spirit was talking directly to me through the speaker. My favorite part of the day was finding out I could address the Holy Spirit himself, that he is a person, and then praying for the Holy Spirit to join me in praying with the hands on prayer. The whole day was a very personal and intimate experience for me."
Tags: events