Kalamazoo Institute of Missionary Discipleship - Art of Accompaniment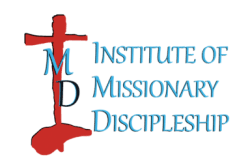 We're thrilled to be a part of the Institute of Missionary Discipleship initiative in the The Catholic Diocese of Kalamazoo. Consider joining us for this day-long Art of Accompaniment formation.
The Diocese of Kalamazoo introduces the Institute of Missionary Discipleship which offers the ability for Catholics to grow in their love and relationship with Jesus. IMD offers trainings in ministry, spirituality, and theology. Participants grow in faith, relationship, and knowledge. All Catholic are encouraged to join and learn how they can grow as missionary disciples.
For more information on the Institute of Missionary Discipleship and their schedule of events, click here.
Accompaniment Resources
Below are a list of the resources mentioned during this Formation Day. These can be great tools to help you continue to grow in your understanding and application of the accompaniment principles covered.
General Accompaniment Resources
---
---
---
Healing Resources
---
---
---
---
Story Resources
by Burning Hearts Disciples
This reflection is designed to assist you in identifying what role God is playing the story of your life. Download the PDF.
Feel free to personalize this reflection so that it fits your life. If there are sections or questions not relevant to you, feel free to skip them. This activity can evoke prayer and deep reflection. Many people find they need to find a quiet place free from interruptions in order to complete it.
---
by Frank P Desiano CSP, Kenneth Boyack CSP
Discovering My Experience of God is designed especially to help Catholics know and affirm their personal stories of faith. This revised and expanded edition allows readers to do a simple and thoughtful set of exercises by which they can discover the signs and patterns of Gods presence in their lives.
---
My Story/My Prayer
A Joint Resource from the Diocese of Green Bay and Burning Hearts Disciples
This simple one page resources invites you to reflect on your story of encounter and/or conversion. If you were to parse your story down to it's simplest elements, what would that look like? The most important aspect of this reflection is keeping Jesus at the center: It's not about what "I"did; it's about what Jesusdid.
Reflecting on our moments of enconter and conversion can also sometimes make us aware of our need for the healing, comforting, and reconciling mercy of Jesus in our lives today. The back side of this simple resource invites you to craft a prayer asking Jesus for the specific healing, hope, or restoration you need today.
---
There are many different ways to express and proclaim the kerygma. You can find it throughout the New Testament, the documents of the Church, and the writings of the early Church Fathers.
What Is the Kerygma?
Ultimately, however you express it, the kerygma is about the person of Jesus Christ and someone making a choice to give their lives to Him - to become his disciple. There are a number of resources and tools that we can recommend to help you proclaim the kerygma most effectively to the people you have been called to evangelize. Ultimately however, the most powerful proclamation of the kerygma is the one that comes from out of your personal encounter with the life-changing power of the person of Jesus.
We have created there are a number of different tools available to help us encounter, absorb, and proclaim Jesus - but this page has a few we have found to be particularly helpful for adults.
---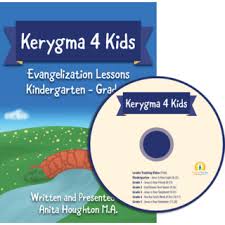 Children are not exempt from the need to hear the Good News of Jesus in a compelling way. Even at a relatively young age, children have the capacity to:
experience the nearness of God,
understand the life, death, and resurrection of Jesus in a deep and personal way,
respond to Jesus' invitation into deeper friendship with the Him, and even
share the Good News with others.
We need to not only focus on the evangelization of adults and parents, but need to parallel our efforts by evangelization children. There are a number of resources and tools that we can recommend to help you proclaim the kerygma to children, youth, and teens of all ages.
Tags: events