We combed through thousands of resources on prayer, looking for those that will best help you to improve your relationship with God.
Whether your prayer is formal or informal, verbal or nonverbal, active or contemplative, the suggestions in this Resource Guide will renew your prayer life by establishing and deepening your relationship with Jesus Christ and His Holy Church.
The Resource Guide is broken down by resource level (Emerging, Moderate, Strong/High, and Family) and by resource type (Print, Audio, Video, Web).  The cost of the resources vary, but many are free!
Take the survey and get a sample of the resources in this guide absolutely free!
Take our Burning Hearts Survey and one of our Disciples will help you idenitfy the resources best for your level and learning style..  After taking the survey, we'll send you this sample page from the Resource Guide: Prayer at no charge!
As you continue to grow in intimacy and friendship with God, know that we are praying for you.  If you have questions, concerns, or find that the resources here aren't exactly what you need, please don't hesitate to contact us.
Kristin Bird
Executive Director
Burning Hearts Disciples
Resource Guide: Prayer
$
0
.
99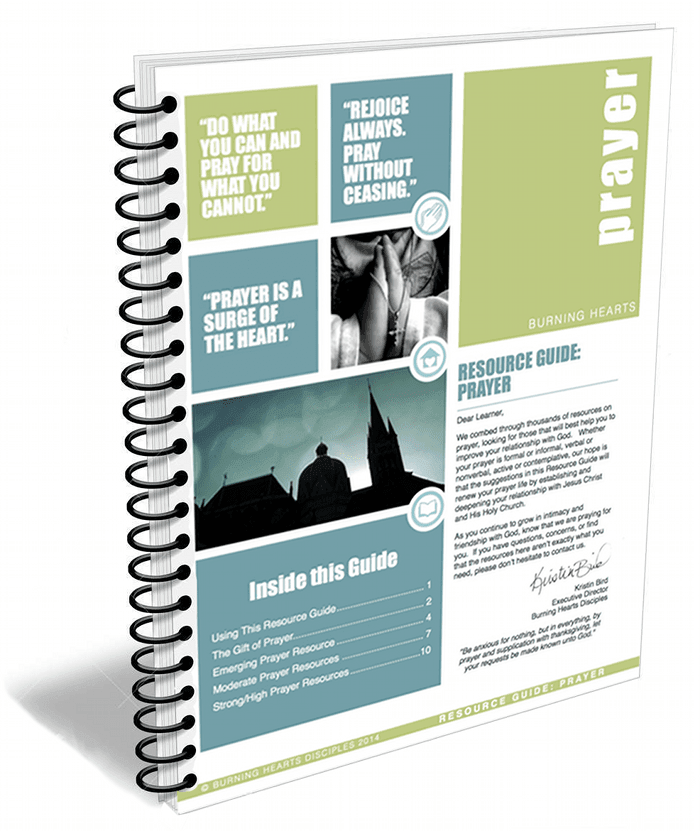 One reason many of us don't pray more often or better is because we have questions and uncertainties about prayer. We worry that we're doing it wrong or that it's not really working. The good news is that you have heard God calling you to pray more. This Resource Guide will help you take the first step toward responding to that call. Read more...
Buy this digital download and use it in your classroom or home. If you are a parish or school leader, you may purchase this package of resources and distribute it to the members of your parish or teachers in your school, or you may print it out and place it in your education resource center. However, please do not post the files publicly online and please always be sure to include the copyright information when distributing.