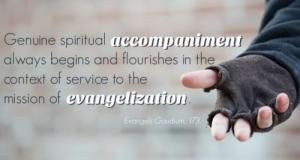 "The Church will have to initiate everyone—priests, religious and laity—into this 'art of accompaniment' which teaches us to remove our sandals before the sacred ground of the other" (cf. Ex 3:5).
The Good News of Accompaniment
The parish must provide experienced missionary disciples who can accompany those who are returning to the Church and guide them throughout their journey. In accompanying others, the disciple possesses a love for others and the Church by being welcoming and hospitable. The disciple must be willing to walk with others, share the Good News, and help others grow in their faith and live in solidarity with others.