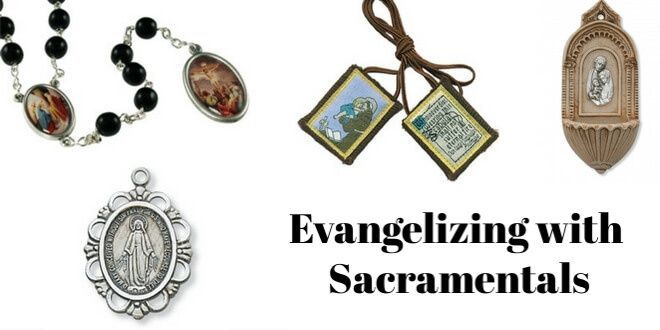 Sacramentals are a part of most Catholics' prayer lives. Before we jump to how to use sacramentals to evangelize, we need to understand what they are. A quick review on the difference between sacraments and sacramentals...
Sacraments
Sacraments are actions of the Holy Spirit at work in the Church (CCC 1116). These actions are a visible symbol of invisible reality, signs that communicate the grace they signify (CCC 1127). God speaks to us through his visible creation and is incarnate (made flesh) in the visible world.
Christ used physical signs and symbolic gestures as a visual means to help those he was healing understand the invisible reality. He used spit and clay to heal the man born blind (John 9:1-12), healed the deaf man by placing his finger in his ear, spitting and touching his tongue (Mark 7:31-37) and by spitting on the blind man's eyes and laying his hands on him (Mark 8:22-26).
God, who created us body and soul, communicates his truth to us not only through ideas and words, but through sensible signs as well.
Sacramentals
Sacramentals, on the other hand are objects intended to strengthen our faith by reminding us of God's presence in our lives and calling us to prayer. They are different than the sacraments in that they are instituted by the Church versus sacraments which originate in Christ.