Easter's Promise: Lessons from the Lilies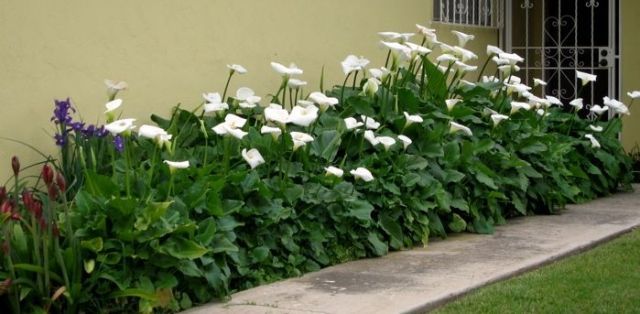 Alongside our front porch is a patch of ground that, for much of the year, we struggle to keep the weeds out of. They grow, we pull them out, they come back, and on and on it goes. But within that patch are plants that lie dormant for much of the year, yet somehow spring back to life.
They are our calla lilies, plants whose green shoots spring determinedly from the ground and soon produce lovely white blooms that last, well, a few weeks or so. Then the flowers begin to shrivel and fade. The stems falter and the calla lilies, it would seem, die— until the following year. They reappear, to again share their God-given beauty with the world.
That bears consideration during this Easter season, a season that, we are told year after year, is one of hope, of promise, of new life. Given the challenges and obstacles and even hardships that life presents in varying sizes and degrees, that message can be difficult to hear, much less accept.
Aren't there going to be problems again? Aren't things going to go wrong again? Aren't we going to be let down again? Aren't we going to screw up again? What good is it to be hopeful?
When It Doesn't Feel Like Easter...
During Holy Week we witness, again and again, Jesus' betrayal by those who had previously rejoiced in his presence. It is, admittedly, a sobering awareness of human flaws and frailty—part of the human condition that is as present today as it was in Jesus' time. And given what is going on in today's world, it is easy to become skeptical, even cynical, toward messages of hope and new life. It would seem easier, sometimes, to retreat from the world and its problems—to hide.
But let us think about the calla lilies and other plants whose life cycles operate in much the same fashion. They grow, they bloom, they wilt, they fade. But they do not die. And they do not hide. They do not worry about what is going to go wrong. They do not fret about their limited shelf life. They come out and they bloom! They share their beauty with the world, if only for a short time.
And isn't that what Jesus did? And what Jesus still does?
The Jesus who walked this earth could easily have shut himself off from the world and hid in his house saying, "Why bother? There are problems in the world today and there are going to be problems if I leave my house. There will be problems after I'm gone. So what's the point?"
That, of course, didn't happen. Jesus, even though he knew he would encounter challenges and obstacles, knew he would be resisted and hated by many, knew he personally would suffer. But he stepped forth, bringing the beauty of God's love into a world that needed it desperately and needs it even more today. In the process, he invited others to follow him in sharing their God-given goodness and beauty with the world.
And because of the God-given grace that is the Paschal Mystery, Jesus—alive and well—invites us today to do the same.
We all have limited time on this earth. But our belief in Christ's Resurrection reminds us that our life in Christ is everlasting. And, troubled though our world and our lives may be, we renew our baptismal promise this season to be bearers of hope, joy, love, and new life throughout this and every year.
Yes, we always will have our challenges. We always will encounter weeds, in one form or another. But we also have our gifts and the call to bring beauty into the world by living the example of the one who is, truly, the promise of Easter.
---
This article was originally published on Catholic News Service's Faith Alive! Copyright © 2017, Catholic News Service–United States Conference of Catholic Bishops, Washington DC. All rights reserved. Used with permission.
Tags: Easter