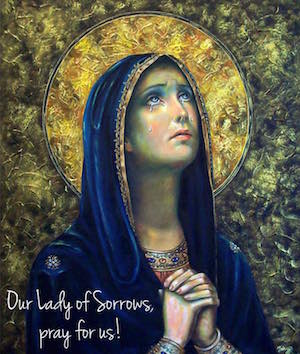 September 15 is the Memorial of Our Lady of Sorrows.
May she who followed her Son to Calvary help us to follow him, carrying his cross with serenity and love, to reach the joy of Easter. May the Virgin of Sorrows especially comfort those who are facing the most difficult situations. (Pope Francis, March 24, 2013)
In her role as Our Lady of Sorrows, Mary becomes the mother who cries with us when we are suffering.

When Simeon prohpesied at the temple that a sword would pierce her heart, did she know what that sword would be? Did that prophesy fill her with dread? Did she pray desperately to God to avoid it, even as she taught her young son to seek and obey God's will in his life? As she listened to Jesus cry out on the cross, "My God, My God, why have you forsaken me," (Mt 27:46) did she feel abandoned by God?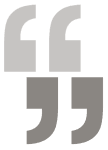 Mary lived in a different time and place. Her experience of daily living was nothing like mine in the details. She didn't have the convenience of electricity, for one thing. Her vocation was outlined in a very different way.
And yet, I find that the Mother of God and I do share the humanity of suffering. As she stood at the foot of the Cross, she must have felt the full cascade of emotions and the brunt of sorrow. The three days before Jesus rose must have been torture.
It's easier to lean back into the arms of someone who's been there. I look to Mary and see the careworn face of a wife, daughter, and mother who has known the burden of everyday life, the small stings and the big burns. I turn to Mary and I feel the comfort of someone who has survived the suffering and offers me the same graces.
Sarah Reinhard, Integrated Catholic
In her role as the Sorrowful Mother, Mary shows us how - in a life filled with suffering - there is also grace. When we are despondent and feeling hopeless, Our Lady of Sorrows can be a wellspring of hope. She can cry with us in the midst of pain. She can pray with us through our heartbreak. She can wrap us in the comforting warmth of her motherly mantel and just be with us.